Kauden 2020 tilausristeliyt voi varata jo nyt. Yhteydenottopyyntö voi lähettää vaikka alla olevaa lomakeen kautta:
Charterkryssningar för säsongen 2020 kan bokas redan nu. Tag kontakt t.ex. via blanketten nedan:
Chartercruises for cruising season 2020 is for sale. You can contact us through the form below.
---
---
Tieto risteilyistä – Info om kryssningarna – Info about the cruises
Reitit- Rutter- Routes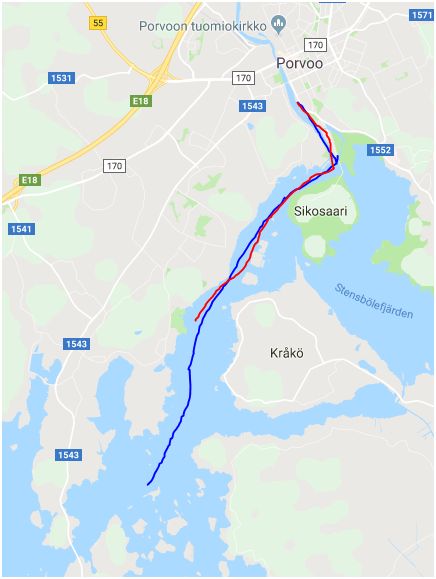 Risteilyt suuntautuvat merelle päin. 1h risteily kääntyy takaisin satamaan päin Haikon kartanon kohdalla ja 1,5 h risteily Haikon ja Emäsalon välillä Mäntysaaren lähellä. Lähtö Porvoon matkustajasatamasta.
Huom! Risteilyt voidaan peruttaa huonon sään tai tilausristeilyn takia.
Aluksella on baari täysillä oikeuksilla, kahvila, wc ja aurinkokansi. Kysy erikoisruokavaliotuotteista.
——————————————————————————–
Kryssningarna görs mot havet. 1h kryssningen vänder tillbaka till hamnen vid Haikko Gård och 1,5h i trakten mellan Haikko och Emsalö, nära Furuholmen. Avgång från Borgå passagerarhamn
Fartyget har en bar med fulla rättigheter, café, wc och soldäck. Fråga om produkter som passar för specialdieter. 
---
The cruises head downriver towards the sea. 1 h cruise turns back towards the harbour at Haikko Manor and  the 1,5 h cruise turns back somewhere between Haikko and Emäsalo, near Mäntysaari.  Departure from Porvoo Passenger harbour
The Ship has a bar with A-grade alcohol rights, a café, wc and sun deck. Ask about special dietary products.
PS! Cruises can be cancelled due to bad weather or charter cruises.