Aikataulu – Tidtabell – Timetable 2021
.6 – 7.8.2021

Risteilykauden 2021 risteilyt ovat nyt myynnissä. Ota yhteys ja pyydä tarjous:  Tilausristeilyt
Säsongen 2021 kryssningar är nu till salu. Tag kontakt och be om offert: Charterkryssningar
Charter Cruises for season 2021 are now for sale.  Contact us and ask for an offer: Charter Cruises
---
Tieto risteilyistä – Info om kryssningarna – Info about the cruises
Reitit- Rutter- Routes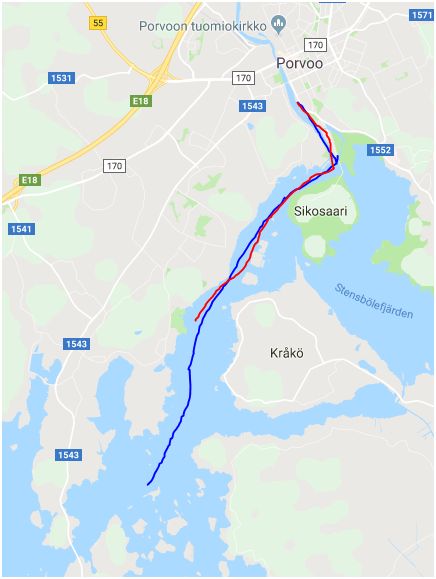 Risteilyt suuntautuvat merelle päin. 1h risteily kääntyy takaisin satamaan päin Haikon kartanon kohdalla, 1,5 h Mäntysaaren kohdalla  ja 2h risteily Emäsalon sillan /Kilpilahden lähistöllä. Lähtö Porvoon matkustajasatamasta.
Huom! Risteilyt voidaan peruttaa huonon sään tai tilausristeilyn takia.
Aluksella on baari täysillä oikeuksilla, kahvila, wc ja aurinkokansi. Kysy erikoisruokavaliotuotteista.
——————————————————————————–
Kryssningarna görs mot havet. 1h kryssningen vänder tillbaka till hamnen vid Haikko Går, 1,5h vid Furuholmen och 2h i trakten av Emsalö bro /Sköldvik. Avgång från Borgå passagerarhamn
Fartyget har en bar med fulla rättigheter, café, wc och soldäck. Fråga om produkter som passar för specialdieter. 
ps. Kryssningar kan bli avbokade pga dåligt väder eller charterkryssningar.
---
The cruises head downriver towards the sea. 1 h cruise turns back towards the harbour at Haikko Manor, 1,5 h near Mäntysaaari  and  the 2 h cruise turns back close to Emäsalon silta/ Kilpilahti.  Departure from Porvoo Passenger harbour
The Ship has a bar with A-grade alcohol rights, a café, wc and sun deck. Ask about special dietary products.
PS! Cruises can be cancelled due to bad weather or charter cruises.