Tervetuloa risteilemään!
Risteilyt nyt myös sunnuntaisin
2.8: 12.30 (1h), 14.00 (1h), 16.00(1h) ja 17.30 (2h)

9.8: 11.00, 12.30 (1h), 14.00 (1h), 16.00(1h) ja 17.30 (2h).
Risteilykausi on 23.6 – 8.8.2020.


Voit myös varata tilausristeilyjä kanssamme.
Noudatamme viranomaismääräyksiä liikennöinnissä ja pidämme huolta hygieniasta. Matkustajamäärä rajoitetaan niin että voimme turvata kaikille matkustajille turvallisia risteilyjä ms Suvi-Tuulen kanssa.
Huom! Muutokset mahdollisia. Ilmoitamme mahdollisesta muutoksista Facebookissa ja kotisivuilla
---
Välkommen och kryssa på Borgå å!
Nu även kryssningar på söndagar!
2.8: 12.30 (1h), 14.00 (1h), 16.00(1h) och 17.30 (2h)

9.8: 11.00, 12.30 (1h), 14.00 (1h), 16.00(1h) och 17.30 (2h).
Årets kryssningssäsong för ruttrafik är 23.6 – 8.8.2020.

Du kan också boka charterkryssningar med oss.
Vi följer myndigheternas riktlinjer och de allmänna hygienreglerna. Passagerarmängden kommer att begränsas enligt rådande riktlinjer.
Obs!. Förändringar i trafiken är möjliga. Vi informerar om förändringar på vår Facebook-sida samt på hemsidan.
---
Sightseeing Cruises on Porvoo River. Welcome!
Now cruises on Sundays
2.8: 12.30 (1h), 14.00 (1h), 16.00(1h) and 17.30 (2h)

9.8: 11.00, 12.30 (1h), 14.00 (1h), 16.00(1h) and 17.30 (2h).
Cruise season is June 23rd to August 8th 2020


You can also book Charter Cruises with MS Suvi-Tuuli.
We are following the health reagulations from the Government. Due to this passenger amount can be less than normal.
NB! Changes to trafic will be announced to our Facebook- page and website.
---
Tieto risteilyistä – Info om kryssningarna – Info about the cruises
Reitit- Rutter- Routes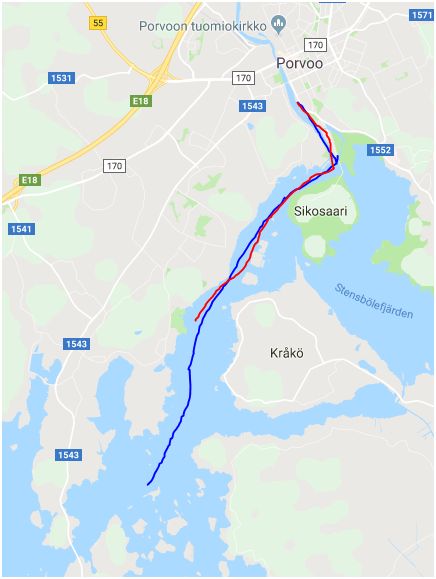 Risteilyt suuntautuvat merelle päin. 1h risteily kääntyy takaisin satamaan päin Haikon kartanon kohdalla ja 2h risteily Kilpilahden lähistöllä. Lähtö Porvoon matkustajasatamasta.
Huom! Risteilyt voidaan peruttaa huonon sään tai tilausristeilyn takia.
Aluksella on baari täysillä oikeuksilla, kahvila, wc ja aurinkokansi. Kysy erikoisruokavaliotuotteista.
——————————————————————————–
Kryssningarna görs mot havet. 1h kryssningen vänder tillbaka till hamnen vid Haikko Gård och 2h i trakten av Sköldvik. Avgång från Borgå passagerarhamn
Fartyget har en bar med fulla rättigheter, café, wc och soldäck. Fråga om produkter som passar för specialdieter. 
---
The cruises head downriver towards the sea. 1 h cruise turns back towards the harbour at Haikko Manor and  the 2 h cruise turns back close to Kilpilahti.  Departure from Porvoo Passenger harbour
The Ship has a bar with A-grade alcohol rights, a café, wc and sun deck. Ask about special dietary products.
PS! Cruises can be cancelled due to bad weather or charter cruises.