Come and enjoy MS Suvi-Tuuli's cruises on the beautiful Porvoo River. Welcome onboard!
Cruise season 2019 will start on the Porvoon Päivät on June 8th 2019.
The ordinary season is expected to end on August 11th, but if the autumn is warm and beautiful, additional weekend sailings will be added after this.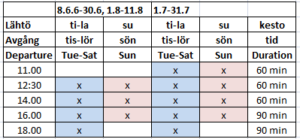 Sailings at 18.00 only if more than 5 adult passengers.
Changes to schedule:
June 21st Midsummers Eve cruises at 18.00 and 21.00. No other sailings.
—-
You can buy tickets in advance from our online store:
https://holvi.com/shop/FriendShipCruises/
——-
The cruises head downriver towards the sea. 1 h cruise turns back towards the harbour at Haikko Manor and  the 1,5 h cruise turns back somewhere between Haikko and Emäsalo, near Mäntysaari. 
Departure from Porvoo passenger harbour.
PS! Cruises can be cancelled due to bad weather or charter cruises.
Dogs are allowed on the sundeck.
Charter cruises  for sale. Please contact us for an offer. More information about charter cruises can be found on the page Charter Cruises
The ship has a café with full alcohol licens, a toilet and a sundeck.