Come and enjoy MS Suvi-Tuuli's cruises on the beautiful Porvoo River. Welcome onboard!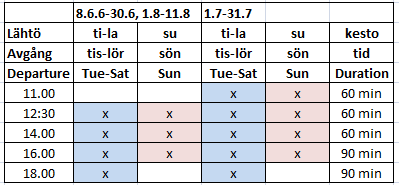 The cruises head downriver towards the sea. 1 h cruise turns back towards the harbour at Haikko Manor and  the 1,5 h cruise turns back somewhere between Haikko and Emäsalo, near Mäntysaari. 
Departure from Porvoo passenger harbour.
The Ship has a bar with A-grade alcohol rights, a café, wc and sun deck. Ask about special dietary products.
Tickets can be bought in advance from the online shop
PS! Cruises can be cancelled due to bad weather or charter cruises.
Dogs are allowed on the sundeck.
We wish you welcome on a cruise to the beautiful Porvoo archipelago. A charter cruise with your own ship is a lovely way of enjoying good company while admiring the beautiful scenery of the charming archipelago.
The cruise can be combined with for instance good food and other programs.
Even though the ships home port is Porvoo, we can sail to and from most public piers between Loviisa and Helsinki. Welcome aboard!
More information about Charter Cruises
Porvoon Päivät 08.06.-09.06.2019
Special cruises with Special prices! See schedule above. Special prices during these days:  All one-hour cruises only 12 € and all 1,5 hour cruises for only 15 €. Children only 5 €.
Tickets can be bought in advance from the online shop
Midsummer Eve Cruises 21.06.2019
Two special cruises with our Midsummer Eve Buffet and live music. Departures at 18.00 (2h) and 21.00 (2h 30 min).
Tickets can be bought in advance from the online shop
More information about special cruises
phone  046 9511 869
e-mail: info@friendshipcruises.fi