Cruises are over for this summer. A big Thank You to all our customers! 
Charter Cruises for summer 2023 are already for sale. Contact us at:

info@friendshipcruises.fi
Information about the routes:
The cruises head downriver towards the sea. 1 h cruise turns back towards the harbour at Haikko Manor and the 1,5 h cruise turns back near Mäntysaaari island.  Departure from Porvoo Passenger harbour, Itäinen rantapromenadi 3, 06100 Porvoo
Dogs are allowed on the sundeck.
The ship has a café with full alcohol licens, a toilet and a sundeck.
PS! Cruises can be cancelled due to bad weather or charter cruises.
We wish you welcome on a cruise to the beautiful Porvoo archipelago. A charter cruise with your own ship is a lovely way of enjoying good company while admiring the beautiful scenery of the charming archipelago. The cruise can be combined with for instance good food and other programs.
Cruise season 2023 is from the end of May/start of June to September. 

 Ask us for an offer; info@friendshipcruises.fi
Practical information about the vessel
Suvi-Tuuli is suitable for groups up to 70 people. For dining guests there is room for 42 persons in the lounge. She has a bar, café, toilet and sun deck. She is also equipped with wireless microphone, loudspeakers, PA -system and stereo.
FriendShip Cruises and Suvi-Tuuli
Suvi-Tuuli was built 1962 in the Soviet Union as a hydrofoil of the Raketa-class. She was named Tehi, and owned by the cities of Lahti and Jyväskylä through their jointly owned company Päijänteen Kantosiipi Oy and was put into service between the two cities. As a hydrofoil she reached a service speed of 32 knots with the help of a 1300-horsepower engine. That made her even faster than the pride of Finland – the GTS Finnjet. As the Tehi she stayed on this route for 21 summers, until 1982.
After that the foils were removed and she started cruising on the lake Päijänne under different owners until 2004 when she was moved to lake Pyhäjärvi, and was renamed Suvi-Tuuli. She was sold in 2009 to Tuusvesi Oy, and moved to Juojärvi. In the summer of 2016 she was sold to Oy FriendShip Cruises Ab, and was moved to Porvoo in 2017.  The first cruise was on Friday July 14th 2017.
Technical information
| | |
| --- | --- |
| Length 26,90 m | Beam 4,4 m |
| Depth 1,8 m | Passenger capacity  70 |
| Speed 12 knots | Main Engine  Mercedes-Benz V8, 180 kW |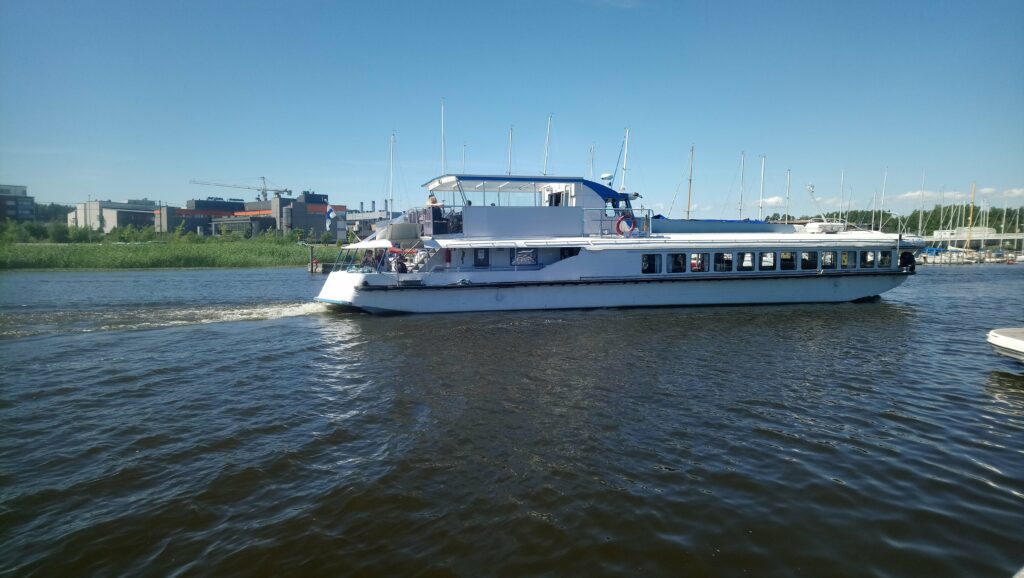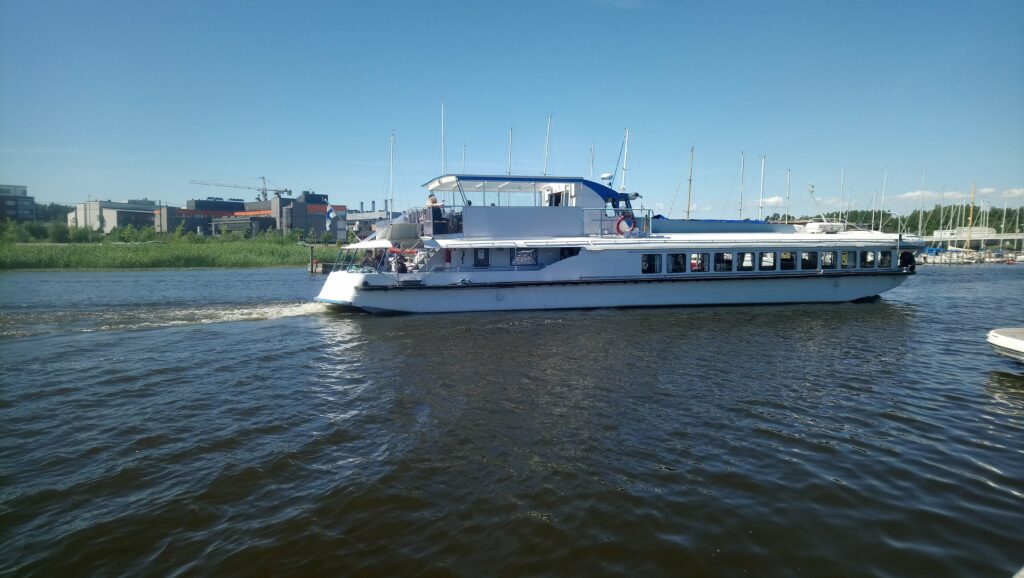 We are a group of ship-enthusiasts who fell in love with a piece of Finnish maritime history – the former "speedqueen" of lake Päijänne – Tehi. So we decided to save her – and put her into a new traffic, making sightseeing cruises from Porvoo.
Our ideals are recycling, caring for the environment, friendly service and offering affordable prices. It can also be seen in that the goal from the beginning was to use second-hand material as far as possible. 
At the same time we wanted to save as much original as possible of what used to be the Tehi. This can be seen in the lovingly restored original side panels, in the original lighting fixtures and hat-shelves, and the original ceiling. The rest of the interior comes from an old restaurant and a closed down café.